The mission of united way of the coastal empire is to improve lives
by mobilizing the caring power of communities.
WHY?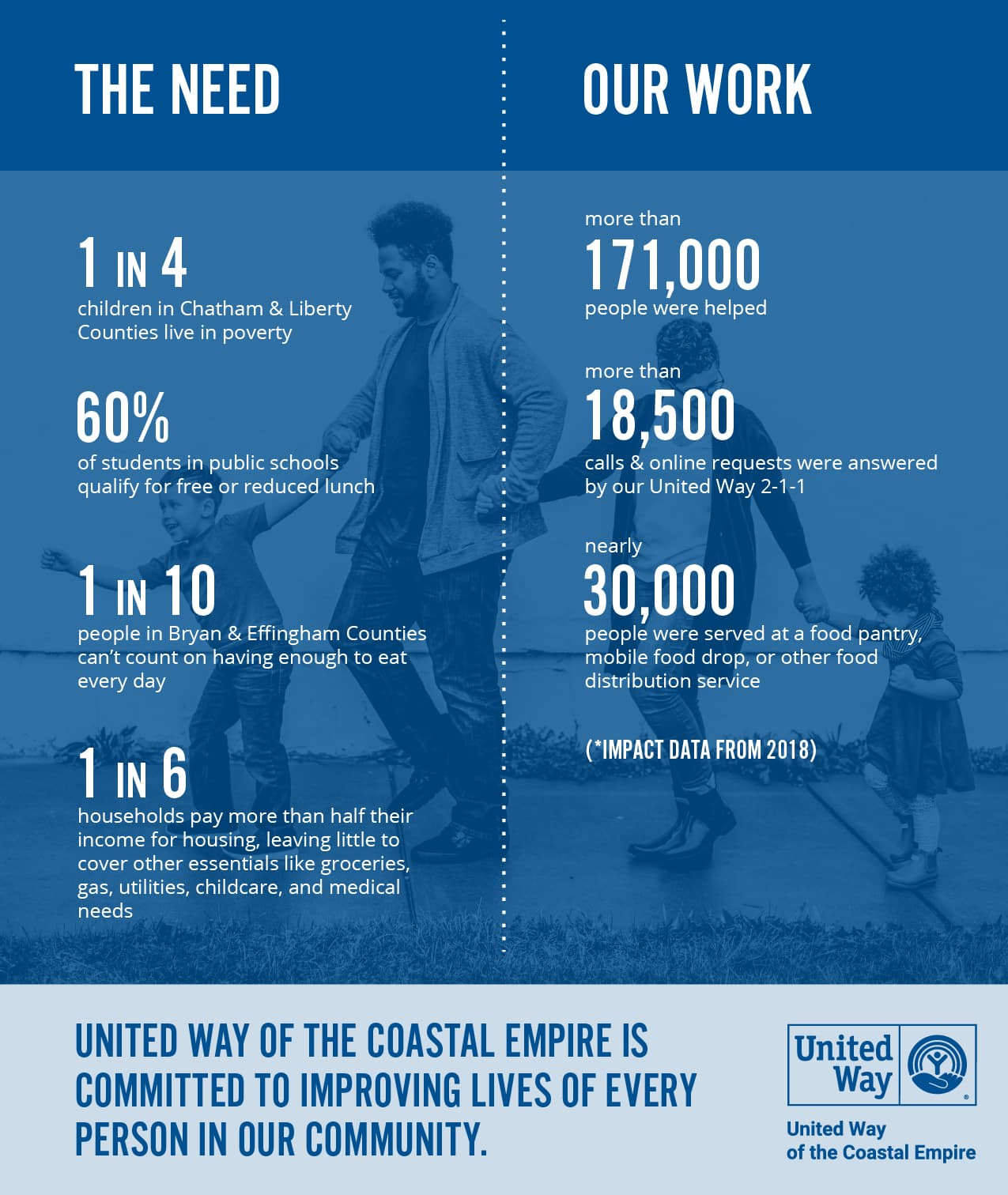 IT'S YOU WHO DECIDES WHERE THE MONEY GOES.
Each year, dozens of trained volunteers review applications and make the decisions that direct the funds raised through United Way to be invested in human service programs in the areas of education, financial stability and health.
Decisions are based on the merit of organizational and program performance and the resources available for investment. Once the allocation process is finished from the volunteers, they present it to the Board of Directors for approval.
The nonprofit organizations we partner with are essential to the health and vibrancy of our community. United Way is proud to support 87 highly effective programs at 54 highly qualified nonprofits across Bryan, Chatham, Effingham, and Liberty counties in 2019.
In addition to our funded programs, we build agency capacity through training series, volunteer projects, and 2-1-1 resource referrals.
ONE OF THE WONDERFUL REALITIES OF A UNITED WAY CAMPAIGN IS THAT IT IS A MASSIVE COMMUNITY EFFORT, WITH MANY HANDS PULLING TOWARD A SINGULAR GOAL – TO IMPROVE THE LIVES OF OUR FRIENDS AND NEIGHBORS.
-Larry Silbermann, Board Vice Chair

Vice President & General Manager, WTOC-TV
OUR HISTORY
We improve lives in the Coastal Empire.
For the last 80+ years, we have been a volunteer-driven organization. Hundreds of local citizens and corporate partners are engaged in bettering our community by raising money, volunteering their time, and advocating our message.
Thanks to the Herschel V. Jenkins Trust Fund and other income, which typically exceeds all administrative and fundraising costs, donor contributions go more directly to help people in need.
Together, we are fighting to create long-term change that will impact generations to come by being a force for good.
HERSCHEL V. JENKINS