About Amiri
Amiri Geuka Farris, a multi-disciplinary contemporary artist known for dynamic, powerful artworks, will partner with the United Way of the Coastal Empire for three exciting events, culminating in the first day of Shop and Dine on September 9th, donating 30% of all his art show sales.
This summer, Farris has been collaborating with museums, art centers, collectors, nonprofit organizations, and unexpected partners including libraries, doctors' offices to bring art out into smaller, underserved communities without a formal arts presence.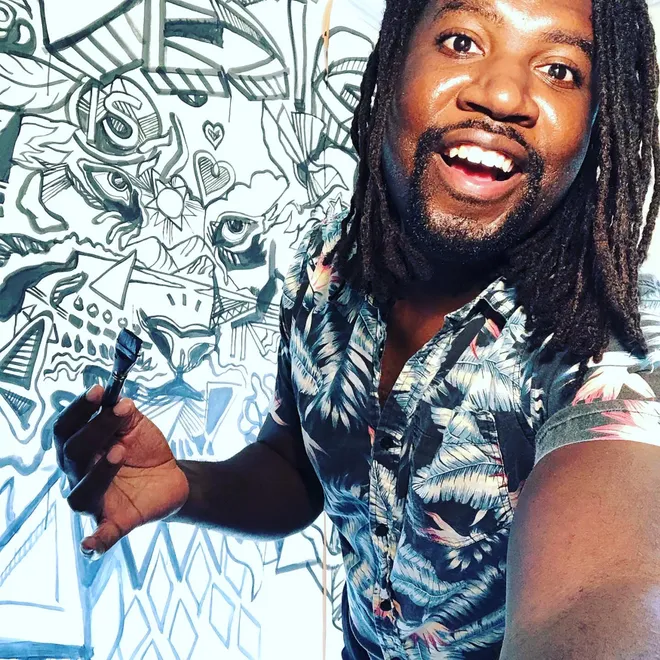 One of my goals is to make artwork more accessible to art lovers in out-of-the-way places and new viewers of contemporary art," said Farris. His work has been featured in more than 50 solo exhibitions and juried museum exhibitions across the United States, including the U.S. Capitol in Washington, D.C. and the Smithsonian.
– Amiri Geuka Farris
---
Community Youth Painting
Community-based art programs have a tremendous impact on youth development by celebrating the creativity, vision, and voice of the youngest members of our community.  Community youth will work alongside Amiri Farris using real art materials. The one-on-one interaction they will have with the artist allows uncommon access – a concept that may be foreign to children since they rarely are with artists in person.
United Way will have a tent and be noted as the "Community Spotlight" for the week at the Market. They will be sharing resources about all of the ways to engage with United Way and the youth with some incredible live-action painting with Amiri.
---
Special exhibition
United Way of the Coastal Empire will host an exhibition of new works comprised of paintings, assemblages and multimedia works by Amiri Geuka Farris. These works take you on an introspective journey, deep into the artist's view of a season of active conscience.
The artist comments on what it's like to be at this time and space making new connections and collaboration. These works create a dialogue surrounding the human experience and how we connect to one another and nature as we continue to learn, evolve and grow.
---
"Meet the Artist" Event
United Way invites the community to meet Amiri Farris at this unconventional exhibition event, listen to him speak about his most recent series of paintings, and learn about his connections to our community.
---
Featured Solo Show and Fundraiser
This partnership culminates with a featured solo show and fundraiser at Location Gallery. A portion of the proceeds benefits the 2022 campaign for the United Way Community Fund. The Location Gallery at Corcoran Austin Hill Realty features group and solo art shows by local Savannah artists. The Location Gallery has benefitted different Savannah nonprofits every month for the past six years.