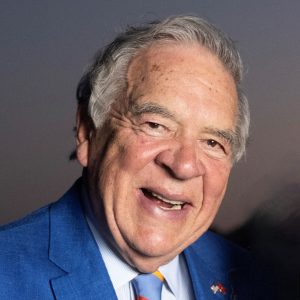 SAVANNAH, GA (September 14, 2023) – United Way of the Coastal Empire is proud to announce Austin Sullivan will serve as the 2023 Chairman of the Alexis de Tocqueville Society. He takes the reins from Joe Herring, who served in this role for the past year.
Austin Sullivan retired after a successful career as a senior executive of General Mills. Since moving to the Savannah area, he has dedicated his time, talent, and treasure to making our community a better place through United Way of the Coastal Empire. He has served on the United Way Board of Directors and the Alexis de Tocqueville Society Committee for many years and has been a long-time member of the Community Investments Committee. Sullivan is also the founding Co-Chair of United Way's Race, Equity, and Opportunity Committee. Additionally, he served on the Steering Committee to produce the organization's strategic plan and now serves on the standing committee to advance it.
"I think all of us want to be a meaningful part of something worthwhile, something that allows us to feel like we are contributing," says Austin Sullivan. "A friend of mine used to have printed on his card, 'I want to be a weight-bearing member of the human community,' and thanks to my involvement with the United Way, I have been given that opportunity. I admire the work of the United Way, which improves the lives of people in our community every day, and I am proud to be a member of the Alexis de Tocqueville Society."
The Alexis de Tocqueville Society is a keystone to United Way's annual giving campaign and the most prestigious giving society. Members contribute $10,000 or more annually to the Community Fund. Named for French political philosopher, Alexis de Tocqueville, this global society recognizes the fundamental role personal philanthropy plays in improving lives in our communities.
In 2022, United Way of the Coastal Empire's Alexis de Tocqueville Society welcomed nearly 80 families of donors. Gifts to the Community Fund allowed United Way to deliver direct services and information to thousands of people in crisis as well as provide grants to more than 80 programs across more than 50 area nonprofit organizations. All of this work is focused on bringing the community together to help provide a social services safety net and advance strategic efforts to encourage upward mobility for all.
Income from the Herschel V. Jenkins Trust and other revenue covers much of the organization's administrative and fundraising expenses every year, allowing more donor dollars to go where they're most needed in service to the community.
"Austin Sullivan is a pillar in our organization, and we are honored to have him leading this year's Alexis de Tocqueville Society efforts," says Brynn Grant, United Way of the Coastal Empire President and CEO.
Learn more about the Alexis de Tocqueville Society by visiting https://uwce.org/adt/ or contacting Andrew Konkel, Vice President of Resource Development at 912.651.7716.