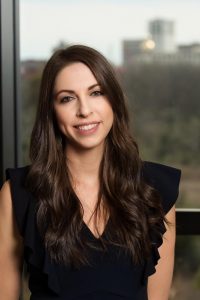 SAVANNAH, GA (November 9, 2023) – Leia Dedic will join the executive ranks of United Way of the Coastal Empire in the newly created post of chief impact officer on November 27, 2023. A veteran with 10 years of experience at the Savannah Economic Development Authority (SEDA), she most recently joined United Way from a position at Guidehouse in Washington, D.C.
"We are thrilled to welcome Leia to our established team of dedicated professionals to grow our impact in our four-county service area and make sure we get the maximum result for every dollar our community invests in United Way," said Brynn Grant, president and CEO of United Way of the Coastal Empire. "Leia brings a perfect combination of local knowledge and national experience to the task. She has a wealth of experience collecting, analyzing, and communicating data that will help us share our collective impact."
Dedic most recently served as managing consultant for Guidehouse, where she assisted federal clients with the development of transformation strategies to improve programs and mission-critical operations. Prior to her time at Guidehouse, she spent a decade in economic development, last serving as the Vice President of Strategy and Partnerships for SEDA, where she was responsible for efforts related to strategic planning, community partnerships, research, and grants while assisting with organizational effectiveness.
The chief impact officer position reports directly to Grant and is charged with the design and implementation of the organization's impact work under its ever-evolving strategic plan that includes providing a safety net for the most vulnerable and pathways for upward mobility, as well as advancing bold goals in quality, affordable childcare, a ready and resilient workforce, financially empowered families, and safe and stable housing.
In the community, Dedic serves on the Board of Directors for Leadership Southeast Georgia, Junior Achievement, and the Small Business Assistance Corporation, in addition to serving on various committees related to workforce and community development, including United Way of the Coastal Empire's Strategic Planning Committee.
Dedic received her bachelor's degree in economics from Armstrong State University (now Georgia Southern University). She was selected by Georgia Southern University's Alumni Association for the 40 under 40 class of 2019 for leading the way in business, leadership, community, educational and/or philanthropic endeavors. She also graduated from the Georgia Academy for Economic Development (2017), Leadership Savannah (2017), and Leadership Southeast Georgia (2019).
"I'm delighted to be returning to the Coastal Empire to take up this important work in Bryan, Chatham, Effingham and Liberty counties," Dedic said. "United Way already has a major and measurable impact in the region, and I look forward to working with this dedicated team of professionals to find innovative ways to deepen our collective impact and help to communicate it for the greatest possible engagement and support."