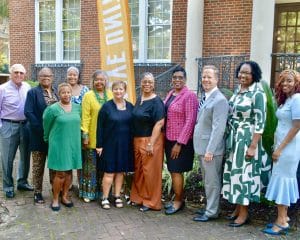 SAVANNAH, GA (Sept 13, 2022) – United Way of the Coastal Empire (UWCE) held a press conference announcing a community-wide initiative to advance early language and literacy in Chatham County through a special award from the Sandra Dunagan Deal Center for Early Language and Literacy.
United Way is one of two organizations statewide to receive the Language as a Missing Link and Missed Opportunity Champion Award. The award includes a series of six professional development sessions aimed at families, child care providers, educators, and policymakers. The Deal Center will be sending Emily Rubin, MS, CCC-SLP, Director of Communication Crossroads, Inc. into our community to provide community-based professional learning, including sessions on the implementation of the toolkit and collective impact. Implementation of the Language as a Missing Link and Missed Opportunity toolkit will focus in particular on how to notice, monitor, screen, and enhance language and literacy skills in children from birth to age 8.
Another part of this opportunity will include working with the Deal Center to develop a plan to scale implementation of the toolkit to embed the practice across community partners that support systems championing children's success including schools, parents, health, etc.
United Way of the Coastal Empire will partner with Coastal Georgia Indicators Coalition, Savannah-Chatham Public Schools, early child care providers, and all stakeholders that are working to ensure student success.
The local cross-sector team will be directed by Cheri Dean, United Way of the Coastal Empire Vice President for Direct Services and Impact. The team includes Lizann Roberts of the Coastal Georgia Indicators Coalition and the Chatham Family Connection Collaborative; Lola Shelton-Council, Interim Executive Director of Live Oak Public Libraries; Zelonia Williams of the Future Minds Literacy and Adult Education; and Dr. Brenda Logan, Professor Emerita of the College of Education at Georgia Southern Armstrong Campus.
The professional development series will begin on September 27th. Those interested in participating should contact Cheri Dean at 912-651-7707 or [email protected].
The Deal Center is named for the late Sandra Dunagan Deal, the immediate past First Lady of the state of Georgia. During her husband's tenure as governor, she championed early childhood education. The aspiration of the Deal Center is that all children growing up in communities in Georgia have access to strong systems of family, community, and educational support in early language and literacy development so that they can be successful in school, the workforce, and life.
Missing Link and Missed Opportunity Champion Award
The Deal Center selected two community-based, cross-sector teams who demonstrated a commitment to early language development in the birth to age 8 continuum to be the first recipients of this award. The selected Champions demonstrated a commitment to implementing and embedding evidence-based practices for early language development through:
The utilization of the Language as a Missing Link & Missed Opportunity toolkit
Cross-sector partnerships
Community-based professional learning involving the acquisition of knowledge for behavior and practice change
Bridging the birth to age 8 continuum by embedding the same practice across the continuum